Ministry team
The Amersham Circuit has one full time Superintendent Minister and one Minister, working together with a Community Worker (in Chesham).
The Circuit is also served by Local Preachers and Worship Leaders, and many volunteers in various roles.
Who to contact
Revd James Patterson - Minister from September 2022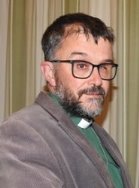 Revd Adam Wells - Superintendent Minister
Adam is the Superintendent Minister for the Amersham Circuit.
Adam was born in Kenya, where his parents were teachers. When Adam was four his family returned to the UK.
He received his call to Ministry while reading Religious Studies at Lancaster University, where he also met his wife Ann. Adam was accredited as a Local Preacher in 1986 in the Leytonstone and Forest Gate Circuit in the London North East District. From 1987 Adam spent three years at Wesley House in Cambridge training to be a Methodist Minister.
Since leaving Cambridge Adam has served in the following Circuits; Barrhead near Glasgow, Durham & Deerness Valley, Loughborough and Borders Mission in the Notts and Derby District before arriving in the Amersham Circuit in 2019.
Adam is passionate about encouraging people to grow in their own relationship with Christ and develop a spirituality that sustains them. Adam is a Tertiary of the Order of the Holy Paraclete, an Anglican religious order based in Whitby.
Adam rides a recumbent trike and is a passionate supporter of Arsenal football club.